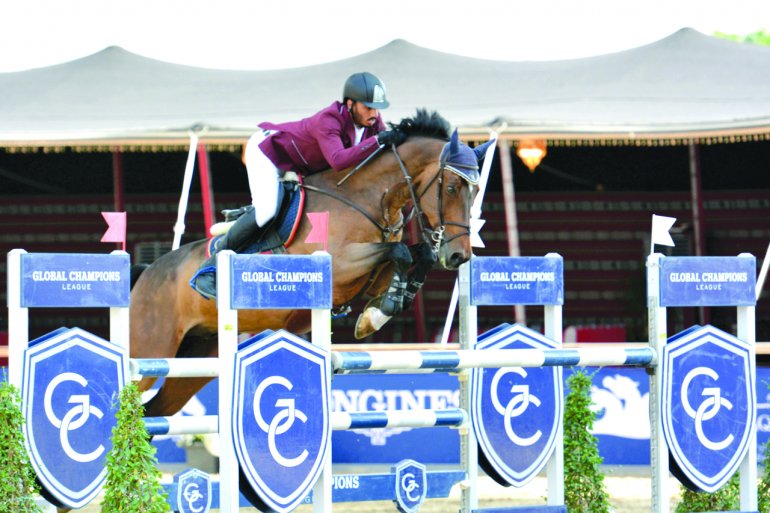 Qatari rider Saeed Nasser Al Qadi yesterday produced a well-timed routine with Daydreamer Ec, clinching the feature event on the final day of the third round of the hugely popular Hathab Series.
Daydreamer Ec managed a flawless ride with Al Qadi, clocking a time of 38.99 seconds to win the 1.30/1.40m competition in jump-off at Al Shaqab Arena.
The Qatari, who won the 1.20/1.30m class with Jessico on Thursday, yesterday emerged a pleased man with his second win of the three-day event devised to groom young riders.
"I am very happy. This has been a great week of riding for me. We are enjoying competing in the Hathab Series," Al Qadi said. "This series is helping the young riders learn a lot," he added.
The podium winners, Qatari riders Saeed Nasser Al Qadi (centre), Hamad Ali Mohamed A Al Attiyah and Nasser Al Ghazali pose for photograph during the victory ceremony of the Class 09: Doha 2017 Invitational 1.30/1.40m event at Al Shaqab Arena yesterday.
Qatar's Hamad Ali Mohamed A Al Attiyah joined forces with Clinton to claim the second spot in a time of 39.84 seconds. Al Attiyah won QR 7,000 for his efforts at Al Shaqab Arena.
Quel Homme, who had Nasser Al Ghazali in the saddle, sealed the third place in a time of 39.97 seconds. Al Ghazali picked up QR 5,250.
Rashid Towaim Ali Al Marri (Beyonce, 35.50 seconds, QR3,500) and Hamad Nasser Al Qadi (St Lucia, 37.22 seconds, QR2,450) completed the top five. Al MArri and Al Qadi suffered because of 4 faults each.
Earlier in the day in the 1.20/1.30m, Rakan Al Hasawi produced a flawless ride with Debver to clinch the top honours in a time 36.31 seconds. Al Hasawi won QR6,250.
Faisal Abdulhadi S.A Al Marri, astride Le Premier K, claimed the second berth in a time of 43.29 seconds. Al Marri the second prize of QR 5,000.
Hamad Nasser Al Qadi, one of the popular riders in Qatar, guided Jazly to the third spot. Jazly clocked 39.60 seconds as Al Qadi took home a cash prize of QR3,750.
Jaber Rashid Al Amri (Belucci van't Vleminkhof, 39.36 seconds, QR2,500) and Faleh Suwead Al Ajami (Carport, 40.72 seconds, QR1,750) completed the top five. Al Amri and Al Ajami were slowed down by 8 faults each.
A joint effort of Qatar Equestrian Federation (QEF) and Al Shaqab, the Hathab Series events are alternating between Al Shaqab Arena and QEF's Outdoor Arena, Event Director Ali Al Rumaihi said at the launch of the event last month.
The series is being broadcast live on Al Kass Sports Channel.
The 12-leg series will end in April with a total prize money of QR1m, organisers announced last month.