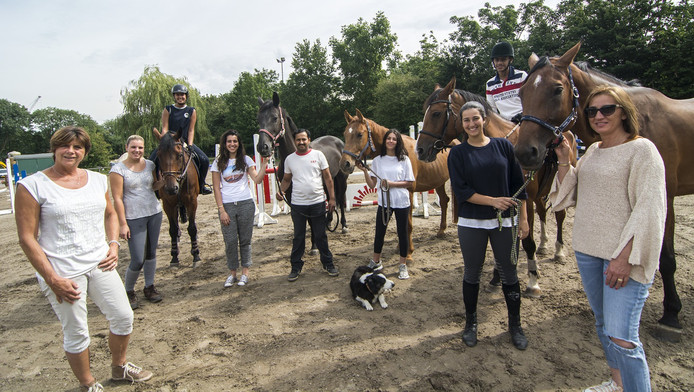 In the stables of the Utrechtse Manege in the Voorveldsepolder, Arabic and English are the official languages these weeks. Several dozen horse riding enthusiasts from Kuwait are in Utrecht to follow jumping training from Conny Agterberg.
Some are already coming for the tenth time. ,, Conny is a whopper, '' says Shahad Awadh. "She makes riders better by putting emphasis on things that go well. Conny teaches us to be one with the horse. The communication between rider and horse is essential for her. She can convey that like no other. That makes her so special. ''
Conny Agterberg knows the rave reviews, but stays on the ground with both feet. Just do it, then you're crazy enough is her credo. The fact is that dozens of horsemen, whether or not accompanied by horses, take the plane from Kuwait or Qatar every year for a training holiday in Utrecht.
Lap
For some, Conny Agterberg has become a second mother. Shawad was already as a child on the lap of the Utrecht trainer, now the almost graduated student computer science is still a regular student at the Utrecht Manege in his twenties.
Lulu Al Essa has also been coming to Utrecht for years. ,, Conny is the most positive trainer I know. She makes sure that you make progress every year. "The Kuwaitis all sleep in the adjacent Hotel Mitland. There the Muslim guests pray a few times a day in the hotel room. The training courses are in English, the language that the guests from the Golf State all manage perfectly.
It is clear that money is not an obstacle for the guests to make the expensive crossing. Some of the Kuwaitis allow their own horses to fly from Kuwait: costs for a return of no less than 3000 euros. Some Koeweiti's go in the Netherlands with Conny Agterberg looking for a gess-like horse.
The young guests from Kuwait are delighted about Utrecht. "The city is cozy and beautiful," says Shahad Awadh. ,, I feel safe and well at home everywhere. ''