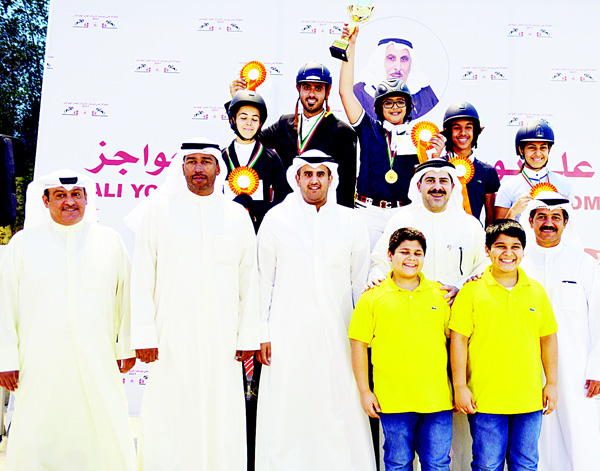 In the First Ali Al-Matrouk Hurdle Horse Race Championship held at Messilah Equestrian Club, the rider Dalia Al-Zahim came first in the 135cm-height category, winning the grand prize, followed by Abdulrahman Al-Fazie in second place and Lulu Al-Essa in third place.
Representing the sponsors of the championship, Ahmad Al-Matrouk, Head of the organizing committee Waleed Al-Shihab and the Coordinator Ali Al-Wuhaib honored the winners.
In the advanced category of 125cm height, Rakan Al-Hassawi came first followed by Khaled Al-Khubaizi and Jamila Al-Mutawa in second and third places respectively.
Fatima Al-Ghanim triumphed in the 110cm category ahead of Yousef Al-Nuaimi and Rahf Al-Kharafi who came second and third respectively.
In the 100cm category, Abdulrahman Al-Mudahaka came first followed by Mohammed Al-Ramadan in second place and Fawaz Al-Ghunaiman in third.
Abdulrahman Al-Awadhi won the 80 cm category followed by Naseeba Al Muosherji and Saleh Al-Shatti in second and third places respectively.
Ali Al-Matrouk expressed his appreciation and delight over the huge attendance and the amazing participation of the equestrians, affirming that the championship will be held annually. He praised the efforts exerted by all the committees and the media coverage support for ensuring the success of the championship.