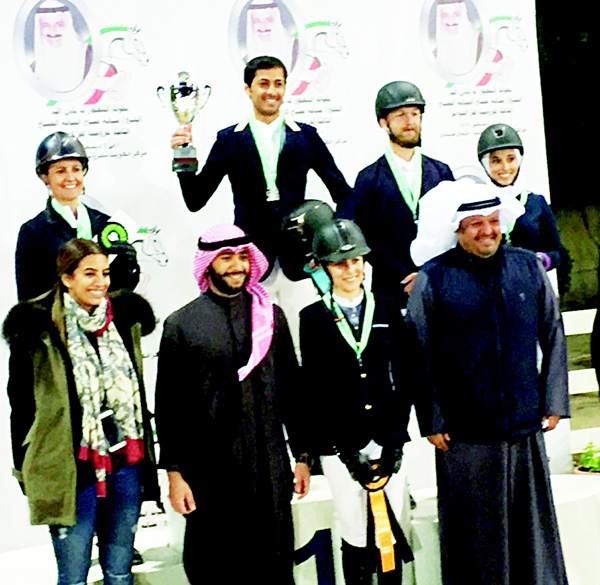 KUWAIT CITY, Dec 9: Third edition of the late Sheikh Salem Al-Sabah Horse Jumping Championship is due to end today at Kuwait Riding Center where 150 horsemen and women are competing and jumping various heights in three categories: amateur, middle-class and advance class.
The event, sponsored by Sheikh Dr Muhammad Sabah Al-Salem, witnessed a large crowd of spectators in the opening game with former Arab and Asian champion Salem Al-Sabah, Khaled and Khalifa Al-Khorafi, alongside international horseman Nael Nassar.
The first day of the championship saw the participation of 147 riders in their various categories with 28 riders making the 130 cm jump.
Horse "Charlie" ridden by Ali Al-Khorafi won the first place by registering 32:09 seconds without mistake, while "Narwiki Rougy" ridden by Al-Alaa Al-Sultan finished in 33:97 seconds without mistake.
Ali Al-Khorafi and Al-Alaa Al-Sultan were presented the championship trophy by Sheikh Yusuf Al-Sabah, Sheikha Fajer Al-Sabah, Sheikh Hamad Abdullah Al-Salem, and Khalifa Al-Khorafi.
In the advanced category, 40 riders participated in the 120 cm jump, which Ali Al-Khorafi on "Columbus" won the title. He was followed in the second place by Jamela Al-Mutawa on "Fiber Liner" and Bavel Franco on "Dorameed" won the third place.
In the middle-class category, 79 riders competed to jump the height of 105/110 cm and Shamlan Al-Shamlan on "Wishter" won the first place, followed by Abdul-Rahman Al-Mudahaka on "Vober" and Ahmad Al-Sharida in second and third places respectively.