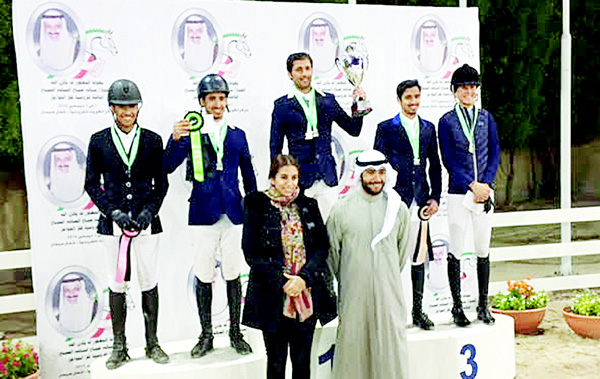 KUWAIT CITY, Dec 10: On the second day of the third edition of the late Sheikh Salem Al-Sabah Horse Jumping Contest in which 20 horsemen and horsewomen participated, Ali Al-Khorafi with the horse Olan won the first place in the advanced category of 135 cm.
Yusuf Al-Sabah with the horse Nemaki came second and Rakan Al-Hasawi with the horse Denise took the third place. All three winners are from Kuwait Equestrian Center.
Also, Al-Mesaila Club's Ahmed Al-Anaz with horse Dowakaki came fourth and Nora Al-Qa'oud took the fifth place in the same contest.
At the end of the event, Sheikh Hamad Abdullah Al-Salem and Sheikha Fajr Al-Sabah honored the winners, while Sheikh Hamad Al-Samah thanked Kuwait Equestrian Center for organizing the event and noted the competition will continue in memory of late Sheikh Salem Al-Sabah.
Meanwhile, 78 horsemen and horsewomen participated in the 125 cm jump contest in which Hala Al-Mulla took home the first prize with the horse Zorana and Abdullah Al-Rawdan with the horse Kalata came second, while Ali Al-Khorafi with the horse Columbus took the third place.
In the medium contest of 105/110 cm, Rakan Al-Hasawi came first and sixth respectively, and Shamlan Al-Roumi took the second position and Christen third. Many competitors surmounted the obstacles without making errors in the 90 cm jump for beginners.