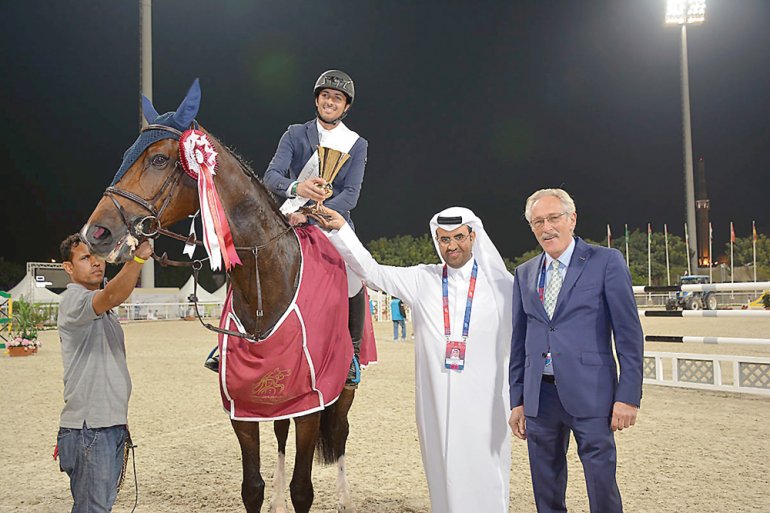 Popular Kuwaiti rider Ali Al Khorafi yesterday produced a flawless routine with 'reliable' mare Cheril to win the QR 120,000 Mini-Grand Prix on day three of the Qatar International Show Jumping Championship.
Cheril, yesterday clocked a winning time of 44.95 seconds. Al Khorafi, who rides under the FEI flag, won QR 30,525.
Al Khorafi, who finished with a win in one of the competitions on Friday, claimed his win ahead of Jordanian rider Ibrahim Hani Bisharat, astride Brown Sugar and Russia's Vladimir Tuganov, who rode Confident Of Victory.
Brown Sugar clocked a time of 46.02 seconds to secure the second spot while Confident Of Victory finished in a time of 48.64 seconds for the third spot among 10 horses which qualified for the final round.
Second-placed Bisharat won QR 24,420 while Tuganov got richer by QR 18,315. Rakan Al Hasawi (FEI, Dennis, 49.22 seconds) and Saudi rider Abdullah Al Rajhi (Cornelexs, 52.86 seconds) completed the top-five at the Main Arena of the Qatar Equestrian Federation (QEF).
Al Khorafi, 27, was thrilled with his 'dramatic win'.
"It's a pleasure to win this event since it is our first show of the season," Al Khorafi said. "A lot of strong riders here. Most of the competitors here are Olympic riders. The competition standard is very high. I had to take the risk since I was the last jumper. My mare has been doing really well. It did a great job on the first two days. I said 'I will try and take the risk," Al Khorafi said.
"Unfortunately we are not riding under the Kuwaiti flag. Hopefully they will fix the problem and we can ride (under the flag) in the next show," he said.
"This is my second year with this horse. She's young. She has done well. Hopefully I will take her to a higher level," he said.
"Every year I come to Qatar. The Qatar Equestrian Federation always welcomes us and they are kind. The event is getting better. Even the technical side is getting better,"Al Khorafi said.
"I have won here (on Friday) and finished second (on day one). Hopefully we will do a great job next week (at the Al Rayyan Show Jumping Championship)," he said with a smile.
Earlier yesterday, in competition seven, Qatar's Saeed Nasser Al Qadi, astride Jessico, topped the field in the 130/135cm class. Jessico clocked a time of 59.91 seconds as Al Qadi won QR 10,000.
Rashid Al Marri, another Qatari rider, finished in second spot with Beyonce, who ended with a best time of 61.08 seconds. Al Marri got richer by QR 8,000.
FEI rider Noora Al Qoud (Beoniek), was third in a time of 61.70 seconds. Al Qoud won QR 6,000.
Qatar's Faisal Abdulhadi Al Marri (Le Premier K, 63.15 seconds, QR 4,000) and Saudi rider Abdulaziz Mufhid Alhamazani (Classic Girl 22, 65.12 seconds, QR 2,800) completed the top five out of 55 riders.
Earlier, on Friday night, Saudi rider Ramzy Hamad Al Duhami clinched his second major trophy at the three-day event by guiding Garlic VH Kapelhof to a convincing win in the 145cm class.
Garlic VH Kapelhof clocked a time of 63.70 seconds as Al Duhami got richer by QR 67,500. Turkey's Derin Demirsoy, astride Narazo De NYZE Z, finished in second spot in a time of 65.70 seconds. Demirsoy won QR 54,000.
American rider Reed Kessler was in the saddle as Cos I Can secured the third spot in a time of 65.72 seconds. Kessler won QR 40,500.
Russia's Vladimir Tuganov (Confident Of Victory, 67.17 seconds, QR 27,000) and Qatar's Sheikh Ali bin Khalid Al Thani (Carolina 31, 69.6 seconds, QR 18,900) completed the top-five.