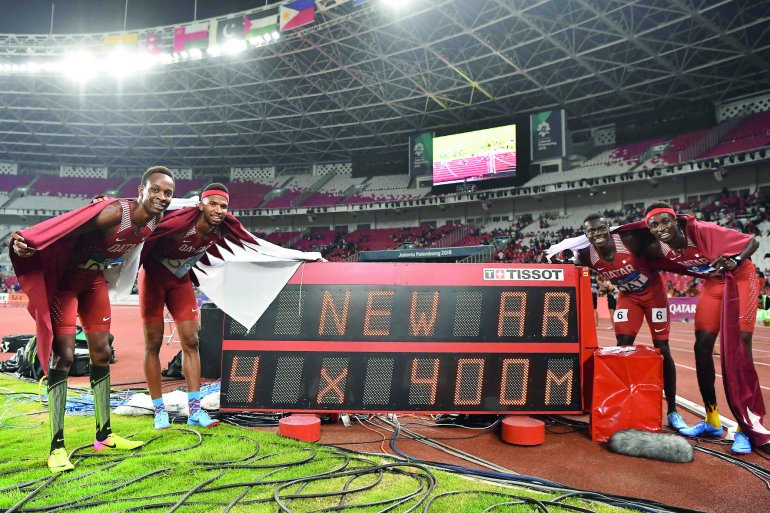 DOHA: The dominant Qatari 4x400m relay quartet was no match for any other finalists as Abderrahman Samba, Mohammed Al Noor, Mohammed Abbas and Abdalelah Haroun bagged the country's fifth gold medal with a record run at the Asian Games yesterday.
Champion hurdler Samba gave a perfect start before Al Noor and Abbas made sure Qatar stayed ahead as the 400 metres champion Haroun further extended the lead to finish the race in 3:00.56 minutes, a new Asian Record.
Yesterday's gold medal was Samba and Haroun's second at the 2018 Asian Games, having won the 400m hurdles and 400m dash respectively at the Gelora Bung Karno Stadium.
"We did it! We won gold today! I would like to dedicate the win to H H the Amir and H E Sheikh Joaan. We also dedicate it to the people of Qatar. We promise to always fly Qatar's flag high and make the country proud," a jubilant Samba said after receiving the medals from the President of Qatar Olympic Committee (QOC) H E Sheikh Joaan bin Hamad Al Thani yesterday.
According to his team-mate Abbas, yesterday's win was no surprise. "This was an expected win for the team, we gave our best and performed very well as a team. I dedicate the win to the people of Qatar and they deserve more," Abbas said after the victory in the final athletics event of the 2018 Asiad.
Al Noor was also happy after erasing the previous record held by Japan, and promised that there is more to come.
"I am very happy for the gold medal and Asian record. The promise is in Doha 2019," Al Noor, 22 said.
Indian team was a clear second with a time of 3:01.85 minutes, but the Japanese men had fight for the remaining podium spot with the Sri Lankans who were putting up an impressive effort. Despite the keen tussle, Japan won the bronze with a time of 3:01.94 while Sri Lankans failed to secure their only medal in athletics.
In other finals which took place yesterday at the same venue, three more Qatari athletes competed in their respective events, but failed to book podium finishes.
Ali Musaab and Hamza Driouch competed in the men's 1,500 metres final and were ranked fifth and sixth respectively. Musaab clocked a time of 3:47.35 while Driouch finished with a time of 3:47.84 in the event which was won by India's Jinson Johnson who made up for his shock loss to compatriot Manjit Singh in the 800m.
In the men's 5,000 metres final, Qatar's Yaser Bagharab finished fifth marking 14:16.68.
Meanwhile, Qatar secured their fourth silver medal in Indonesia when equestrian rider Sheikh Ali bin Khalid Al Thani won the silver medal in the individual jumping event yesterday.
Riding on the saddle of his nine-year old stallion Sirocco, Sheikh Ali scored 2.02 at the Jakarta International Equestrian Park.
This was the second medal at the 2018 Games for Sheikh Ali, who was partnered with compatriots Basem Hassan, Hamad Al Attiayah and Salmen Al Suwaidi to secure the bronze third place in the team event on Tuesday.
"We came to the Asian Games aiming for gold, but we got a bronze medal as a team and I got a silver medal in my competition today. Still great, thanks God. We look forward to better performances in future," Sheikh Ali said after yesterday's win.
Kuwait's Ali Al Khorafi won the gold medal to become the second jumper from his country to win gold in the individual event at the Asian Games while Saudi Arabia's Ramzi Al Dahami secured the bronze.
Qatar's Al Suwaidi, astride Cantaro 32, finished in the 45th spot.
With two medals being added to the tally, Qatar have now won a total of 12 medals, including five gold, four silver, and three bronze.
Elsewhere, Qatari volleyball team's unbeaten run at the 2018 Games came to an end when Iran defeated them in straight sets (25-23, 25-19, 25-18) in yesterday's semi-final despite a strong fight from the Al Annabi spikers.
However, Al Annabi still have a shot at the bronze medal if they beat Chinese Taipei tomorrow.
In the women's trampoline, Qatari female gymnast, Nadeem Wehdan was ranked sixth in the final round with a score of 46.075.