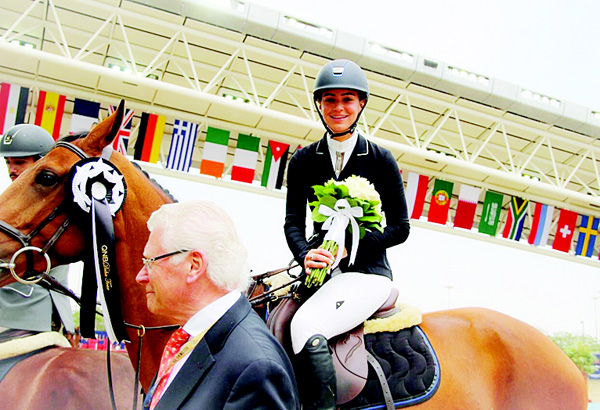 Aisha Al-Qaoud after finishing 5th Kuwait's equestrians have made advanced positions at the fifth edition of CHI Al Shaqab in Qatar.
Ali Al-Kharafi won the gold medal in the category 135cm, ending the jumping round in a time of 60.22 seconds, while Latifa Al-Othman was granted the silver medal for the second position.
Meanwhile, Saudi equestrian Abdulkareem Abbar ranked the third in the same event at 61.18 seconds.
In the same competition, Kuwait's Rakan Al-Hassawi won the fourth position at 62.34 seconds, while his compatriot Aisha Al-Qaoud ranked fifth with 65.44 seconds.
During yesterday's contest, Al-Kharafi won the first place in the category 145cm in a time of 56.88 seconds. (KUNA)
The event includes 160 of the World's top riders from Arab, Gulf and European countries. The three-day event sees the riders compete in Jumping, Dressage, and Para-Dressage. President of Qatar Olympic Committee (QOC) Sheikh Joaan bin Hamad Al-Thani expressed delight at being able to welcome some of the world's top riders to the event. (KUNA)