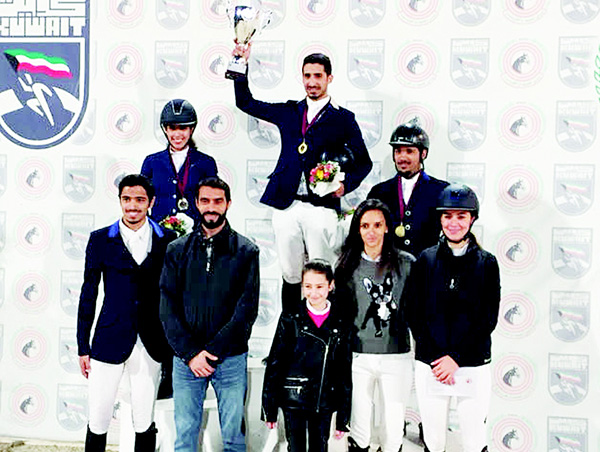 On the first day of the Second Hunting and Equestrian Club Horse Jumping Championship, the horse Fayamki with rider Yousef Al-Sabah jumped the 130cm contest for advanced category without committing any mistakes, thereby winning the race. In the second place was the rider Latifa Al-Othman with the horse Malouki from Kuwait Horse Riding Center. Third position was taken by Abdulrahman Al-Fazai from Al-Sedrawy Stable.
The championship is being held under the sponsorship of the Public Authority of Sports. More than 140 horse riders participated in different categories of the competition.
In the 120cm horse jumping competition, rider Bavel Franco with the horse Dorameed won the title, followed by Ali Al-Kharafi with the horse Cinderalla in second place. The third and fourth places were taken by the rider Nasser Al-Akashan with horses Le Lord and Faleri respectively. The rider Bavel Franco took first place in the 110cm horse jumping contest with his horse Dondi. In second place was Salman Al-Tinnan and in third, Wikadi Al-Marshoud.
The international umpire from Jordan Khaled Al-Khateeb distributed the prizes to the winners. He expressed his appreciation and gratitude to the organizers and sponsors of the event. He commended the successful administration of the entire championship.