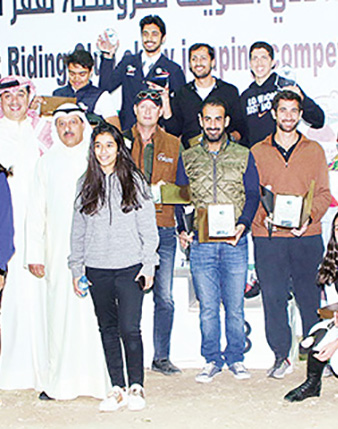 Jockey Abdulrahman Al-Fezai'a of Equestrian Sports Club won the 135cm show jumping competition that was held at Kuwait Riding Center with the participation of all Kuwaiti equestrian clubs.
According to a press release, female jockey Yara Al-Hunaidhi came second followed by jockeys Abdullah Al-Rawdan, Fawaz Al-Rashed, Sa'ad Sulaiman and Parvil Foronco.
The winners were honored by the Head of Kuwait Equestrian Club Jassem Al-Kharafi.
Jockey Jamilah Al-Mutawa from Hunting and Equestrian Club won first place in the 125cm show jumping, followed by jockeys Abdulaziz Al-Ujail, Abdullah Al-Gharabhli, Yara Al-Hunaidhi and Parvil Foronco.
Jockey Sulaiman Al-Tenan won first place in the 115cm show jumping competition, followed by jockeys Nadia Al-Mutawa, Fahd Al-Masoud, Christian Johansson and Ghanima Al-Othman.
Jockey Ahmed Al-Kherafi from Kuwait Riding Center won first place in the 105cm show jumping competition.