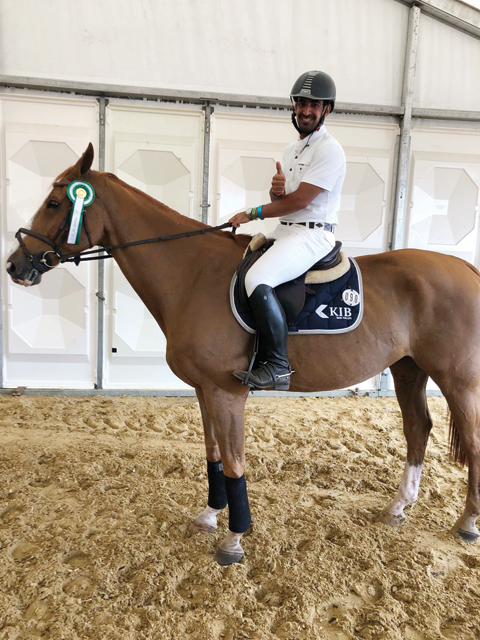 KUWAIT: The jockeys of the KIB Equestrian team continue to shine on the global equestrian scene – most recently at the CH de Wolden – CSI Zuidwolde International Competition, where Ghazi Al-Jeraiwy took the 3rd place in the 35CM CATEGORY. The young jockey completed an error-free round – clocking in at a timing of 39.60 after a stiff competition with first-place finisher Swedish jockey Antonia Anderson – who grabbed the top spot (timing – 37.5). The second-place finisher was Japanese jockey Tae Sato – who came in at a timing of 38.53.
The competition kicked off with the participation of 230 jockeys from 35 countries – with participants from Europe, US, Canada, Malaysia, Japan as well as a number of Arab and GCC nations. Kuwait's participation in this international equestrian event came under the flag of the International Federation for Equestrian Sports, with the country being represented by jockeys Ali Al-Kharafi, Ghazi Al-Jeraiwy, Rakan Al-Hassawi, Dalia Al-Zaghem, Noura Al-Quod, Yara Al-Hneidi, Ghaneema Al-Marzouq, Latifa Al-Hajery, Layan Al-Eissa, and Latifa Al-Othman – all of whom proved themselves worthy sportsmen and sportswomen amongst their international peers.
On this occasion, KIB congratulated Al-Jeraiwy on his impressive accomplishment, noting that the Bank continues to offer its support and sponsorship to the showjumping team year on year, as the team continues to deliver a solid performance time and time again. The Bank's sponsorship of these athletes comes as part of KIB's ongoing efforts to support youth.
It also comes in line with KIB's numerous initiatives geared towards supporting the local sports culture, as the Bank is especially focused on sponsoring talented local athletes to enable them to participate in various competitions; thereby establishing KIB as partners in every aspect of their lives; a true 'Bank for Life'. It serves to note that the KIB equestrian team features jockeys Ghazi Al-Jeraiwy, Ahmad Al-Mudaheka, Abdullah Hamadah and Ahmad Al-Ansari. The team has continued to garner an impressive slew of accolades over the past few years, raising Kuwait's name high on the international scene.